Jefferey Cornett
Jefferey Cornett is a songwriter, composer, producer and performer WITH more than thirty-five years of experience in music, entertainment and studio.
Country legend Eddie Arnold discovered Jefferey in the early 1980's when he was playing  in Louisville, KY.
Arnold sent his road manager, Gabe Tucker to the stage to extend an invitation to meet and start the conversation. Tucker had also worked closely with Elvis and Col. Tom Parker. Arnold and Tucker, along with personal manager and former CMA leader Gerald Purcell, all came to the conclusion that Purcell would become Jefferey's personal manager.  One night at dinner at Poparazzi's, the 2nd Avenue restaurant that Purcell owned in New York City, Purcell told budding artist Jefferey that he reminded him of that "other kid from Long Island but a whole lot more funny."
Starting then, Jefferey worked with Purcell, who had managed Arnold for more than 35 years.  Purcell produced TV shows for Perry Como, Red Skelton and others before opening his own personal management company, Gerard W. Purcell Associates, where his roster of clients included trumpeter Al Hirt, orchestra leader Hugo Montenegro, author Dr. Maya Angelou, songwriter Gale Garnett, and poet Rod McKuen. He is credited with discovering comedian Jay Leno.
Jefferey worked as a soloist, as part of a duo, and as a producer/musician for many rising performers and traditional artists, along with performing on cruise ships and casino dates. 
Not too long after that, Jefferey began spending time at Studio B . During that time he also continued to play clubs and larger venues as a singer-songwriter and continued coaching other budding artists.
Before meeting Arnold and while in college, where he studied both voice and journalism, Jefferey performed during the summers (more than 2,500 performances) at Hunt Enterprises' Worlds of Fun, where he met and was influenced by Rick Nelson, The Captain and Tennille, Roy Clark, Dolenz, Jones, Boyce and Hart (The Monkees), Three Dog Night, Ray Stevens, The Four Tops and Jon Luc Ponty, leading to his decision to pursue a career in the music business.
His first tour with ARP synthesizers included more than 450 concert dates across the U.S. Since that time, Jefferey has continued to keep music front and center -- playing, composing and working in the studio.
When his eldest daughter was born eight weeks premature with a heart condition, Jefferey left the New York-Nashville scene to return to support his family in the Kansas City area. He opened a recording and teaching studio developing artists, recording and producing industrial film sound tracks.
Taking a break from music, Jefferey became a successful public relations, creative, ideation, and development executive working with some of the world's largest brands, including WalMart, Coca Cola, PepsiCo, Kraft, NASCAR, Fiesta Bowl, MLB, NFLPA, P&G, Revlon, Johnson & Johnson, Wendy's, Pizza Hut, along wit many successful start-ups in technology, energy, and health & wellness.
A divorce and a need to have the healing power of music back in his life, Jefferey began writing and recording again a number of original CD projects, including 2008, NVR2L8, Connected, 2009, Three Days Gone, Classically Challenged and High Strung -- and after finally returning to New York City in January 2010, Hudson, 2011 Jazz Class, 2016, Christmas @Otelias, 2017 CHI/LA, 2018 Electric Cowboy Band, 2019 Happy Hour @ Otelia's.
Continuing to write material, Jefferey, a consummate keyboard player, songwriter, composer, producer, vocalist, and guitar lover, is currently working three new upcoming solo releases and on a music series for stress reduction / healing as well as playing limited club dates, venues, sessions and songwriting collaboration.
He is a proud member of BMI, with publishing represented by 88Twelve Music Publishing.  .  
Comedy, Television & Film
Musical theater roles included Tevye in Fiddler On The Roof, Jud in Oklahoma, Pharoah in Joseph and the Amazing Technicolor Dreamcoat, The Captain in Sound of Music, theme parks, including a featured singing role at 16 years old in Hearst-Argyles' New Performers hosted by James Drury (below), star of NBC TV's The Virginian
In 2003, Jefferey played a key supporting role as FBI agent, Michael Matisse in the thriller Illegal Witness.
Along with composing for industrial films, jingles and working with artists, Jefferey reconnected with another childhood talent, comedy and ventriloquism again in 1986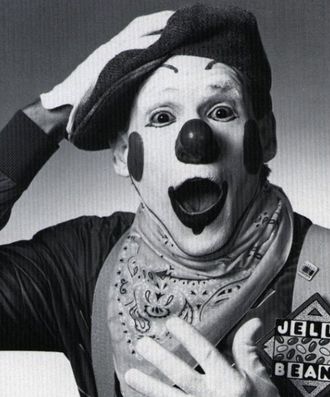 which led to tours and work with major brands and fast food giant Wendy's. That work opened the door to a multi-year stint with KCMBC-TV/Hearst-Argile Broadcasting's JellyBeans as host and co-producer.
Originally from Kansas City, Jefferey works at his studio in Chicago, when not working on projects in Los Angeles, New York and Nashville.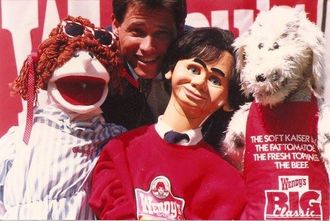 His partner Lisa Barron is an internationally recognized, award-winning journalist and foreign correspondent, who is currently a writer-producer for Decades and Start-TV ..